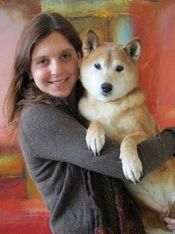 Jennifer Holland is a senior writer for National Geographic magazine, specializing in science and natural history. She lives in Silver Spring, Maryland, with her husband, two dogs, and dozens of snakes and geckos; none of whom, to her dismay, have crossed the species barrier to befriend the others.
You can enter to win the 2013 Unlikely Friendships Wall Calendar autographed by Jennifer Holland in our 30 Days of Giveaways contest! We have several other great prizes to give away in November as well.
What is your definition of friendship?
Friendship is a relationship in which you can be yourself—sing off key, cry openly, watch bad reality television, compare intimate notes. A friend is allowed to tell you that you're being a jerk and expected to tell you that you have spinach in your teeth.
Where did you get your inspiration for this project?
My love for animals is in my DNA; my mother was a huge fan of every little critter (minus roaches) and I'm now carrying that torch. This particular project just made sense: sweet animal stories and adorable photos make people happy. People pass animal pictures and videos on the Web probably more than anything else. It's a hard world out there…we all need a little reprieve.
What is you unlikeliest friendship?
Wow, hard question!!  I guess I'd have to say the one with my Mom. She passed away about 7 years ago but our friendship has continued in a certain way…I "talk" to her in my head all the time, asking her for advice or expressing my worries and frustrations. I'm not religious or anything, but it's comforting to pretend she's listening.
How do you select which images should be included and how do you come up with the stories?
I look for the stories everywhere—and ask friends and family to clue me in if they hear of something. I contact wildlife and rescue centers, zoos, any facility where unlikely friendships might occur.  I scour the Web, where so many stories make rounds. As for images, we simply look for the very best, sweetest, most intimate moments we can find.
What is your favorite story you have written for an image so far? Why?
Hard to pick a true favorite but I loved the story of the cat and the iguana. Iguanas aren't really that nice. So to see one that liked having its face licked by a cat, that was hard to beat. I also loved the dog-cheetah story because of the conservation aspect. (Dogs are trained in Namibia to protect cheetahs from farmers by scaring the cats away. But in captivity here in the States, the same kinds of dogs help keep cheetahs calm.)
What is your favorite photograph from the 2013 Wall Calendar?
That cover photo, of the young chimp with the white tiger cub, is amazing. If ever animals looked to be smiling and full of joy, that's the moment!
What is your favorite wild animal? Domestic animal?
I wouldn't dare choose favorites and disappoint all the others! But I can say that I love octopi for their amazing smarts and behaviors. They're certainly not cute and furry, but I think they're loveable anyway. I also have a special place in my heart for wolves, dolphins, and underappreciated slow lorises (tiny primates). As for domestic animals, I'm definitely a dog person. I have three of them and my life is chaos as a result. Wouldn't have it any other way (unless I had room for 4).
What is your next big goal for your life?
I'm working on 2 books and an article at the moment. If I can get all three projects done on deadline without imploding, that would be a big step forward.
If you had to do anything else, what would it be?
Not surprisingly, I might want to run a wildlife rescue center. Or travel the world in search of emerging artists. Or just spend my days antiquing in small towns.
What one calendar, other than yours, could you not get through the year without?
The one on my phone. I never know what day or date it is but my phone always knows.